Difference between axial and centrifugal fans
There are two different types of construction when it comes to fans used in domestic and professional environments. They vary in the way they transport air along the motor shaft.
Axial-flow fans
move air directly in a straight way along the axis, both on the intake and outlet side. The rotation of the blades is transporting the air but it does not change the direction of the flow.
Centrifugal fans
on the other side take in the air, move it at a 90° angle and blow it out in a different direction.
The different technical versions have benefits and drawbacks that should be kept in mind when choosing a fan for the intended area of use.
Axial-flow fans are typically built into walls or windows and are used for ventilation in bathrooms to name on example. Ceiling, desk and portable fans also count among axial fans. The construction of these models resembles an impeller and can be very basic when it comes to design and technology. Their blades revolve around their own axis and generate a negative pressure with their rotation. The broad side of the blades is directed towards the suction side. The fan takes in the ambient air in an axial fashion (through the motor shaft) and blows it out in the airflow direction. The airflow is not guided or steered towards a different direction. Fans of this type move a high amount of air without generating a strong pressure.
Axial-flow fans operating mode:
Linear, direct airflow through the impeller shaft
Ideal for ventilation in bathrooms, WCs, domestic kitchens
The pros:
+ Generally easy to install
+ Basic models available at a low price
+ Requires little space for installation
+ Wide selection of shape, size, colour etc.
The cons:
- Noise level increases with the rotation speed
- Limited pressure generation
Centrifugal fans

Example of the inside of a centrifugal fan
Air is drawn in through a round inlet port and is exhausted through a square outlet port at a different angle.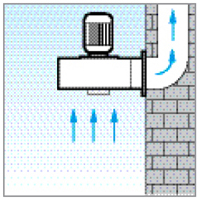 Example: Mode of operation of a centrifugal fan
There are two big differences compared to axial-flow ventilators. Firstly, the pressure of the air and therefore the changed direction of the airflow. The inlet air is pushed with great force and against the natural resistance at a 90° by using the centrifugal force. The air passes through a multitude of closely aligned forward and backward-curved blades. During this process part of the velocity energy is transformed into pressure energy. Thanks to this technology the outlet air can be channelled through long pipes and ventilation ducts without losing momentum or returning airflow.

The shape of the impellers should be matched to the place of installation. Blades that are curved backwards have proven great efficiency when exposed to high pressure, forward blades are better with low pressure. Straight blades prevent accumulation of particles due to extremely polluted air (special purpose).
Centrifugal fans are used wherever axial-flow fans fail to generate enough pressure. They are usually applied in domestic environments as part of a controlled indoor ventilation where the air passes through coarse and fine filters or even heat exchanger plates with ease. Most commercially available axial-flow fans however literally run out of steam when confronted with such intermediate parts.
Centrifugal fans operating mode:
Blows off airflow in a 90° angle to the centre line
Ideal for connection to ventilation and filter systems
The pros:
+ High pressure generation thanks to centrifugal force
+ High air circulation
+ Low-noise despite high rotation speed
+ Ventilation in long, winding ducts
The cons:
- Requires for space for installation due to the angled construction
- Higher purchase price than basic axial-flow fans
The protective housing of the models in our range are made of first-rate, in some cases double-coated, galvanised steel sheet. By choosing to opt for high-quality material and careful lacquering in the production process the casings of our branded goods are robust and resistant to scratches and impact to ensure a long service life. Non-corroding units are perfect for application in humid areas containing vapour or outdoors. The parts on the inside are made of resistant metal and are protected against influence from the outside. For instance, we offer ball-bearing motors that are equipped with a self-cooling function to prevent overheating due to continuous operation. Thanks to innovative technology our models consume little power despite high revolution speeds and operate quietly. Several adjustable speeds levels help to match the airflow to your current individual requirements. Depending on the model the speed is regulated by an included controller, otherwise a controller unit is usually available to be purchased separately. Generally, the fans can be mounted in a variety of positions and angles to facilitate installation and integration, even in smaller rooms. To keep the installation process simple, most of our centrifugal fans already have drill holes and flanges for connection to ventilation ducts. As the air is let out an another angle that it is taken in, centrifugal fans sometimes require more space than a window-mounted fan for example. There are a few special shapes for specific industrial environments, e.g. without a protective housing or with inlet ports on both sides. However, as these types are not part of range, we shall not delve into this topic.
Our recommendation for you
When comparing prices of axial-flow and centrifugal fans it becomes clear that the latter are more expensive which is attributed to their sophisticated technical equipment. Furthermore, it is important to keep in mind that the purchase is a one-time investment that pays off with a better efficiency and more powerful airflow, meaning the initial cost is absolutely justified.
Application of centrifugal fans
As mentioned above, centrifugal fans are ideal for integration in ventilation and air conditioning systems with filter boxes and units used for heat recovery. In newly-built houses with a centralised air supply a centrifugal fan is essential: Only this unit is powerful enough to generate enough pressure to overcome "obstacles" so that the supply air can reach each single duct in the house. Centrifugal fans are found in domestic and professional environments alike, however models for private households are usually smaller than industrial units.
The large versions of these high-performing appliances are primarily used in rooms with strong odour and steam emergence, e.g. kitchens in hotels with several stoves. Other sectors of industry with a demand for frequent air change such as areas with toxic vapour or explosive gas also require fan units to ensure safety of the workers as well as harzard-free handling of the materials used.
Even in less dangerous working environments such as drying of walls and screed on construction sites centrifugal fans prove to be helpful by extracting humid air directly to the outside. Portable units can be used to support dehumidification of carpets after cleaning.
Application of centrifugal fans at a glance:
Centralised ventilation systems in newly-built houses
Connection to fume hoods and ventilation systems
In systems with heat exchangers and filter boxes
Commercial kitchens in cafeterias, restaurants, hotel industry
Assembly halls, industrial facilities, large buildings
Companies specialised in restoration, cleaning and manufacturing
Storage of chemicals and areas with high fire danger e.g. gas station, garage, laboratory
Drying in construction, pavement, carpet
Prevention of mould in damp cellars, basements
Notable information about our centrifugal fans
Preventing fire hazard with certified branded fans
According to the manufacturer's advise the ambient air of the models in our range should not exceed 40°C as an increase in temperature means an increase in explosion hazard. This instruction is particularly important for appliances in commercial kitchens that are continuously in use and emitting steam. Each article description will tell you exactly whether or not the item is suitable for use in professional or industrial environments. Some basic models are not equipped to handle areas with heavy dust or acid stress as they can be found in assembly halls. Special units are also required if the ventilation system incorporates professional fume hoods to ensure that the motor will be damaged by the greasy air. In this case we recommend the installation of the CasaFan GKB series with IP54 splash water rating. The mounting, regular maintenance and checking of the filters is done by a specialist. We recommend changing the filters every six months or less if the air contains a lot of grease and pollutants.
Accessories for centrifugal fans
Our accessories for centrifugal fans
Our shop offers everything you need to optimise and expand your (centrifugal) fans. Multi-stage speed controllers for regulating the fan speed offer a more convenient handling. We also offer low-priced grilles made of robust steel wire to prevent accidental touch of the blades or infiltrating objects. The units can be mounted in a variety of positions, wall mounts and pedestals can be added as well (not all devices require mounting brackets, details are available in the item description).
An elastic sleeve or intake flanges can be mounted to the CasaFan kitchen exhaust box that allow you to easily install the unit in a pre-existing ventilation system. That way you are able to simply replace the current fan with a more powerful device.
Picture source:
Product pictures © Creoven.de
Centrifugal Fans & Accessories
There are two primary types of fans. The most common type is an axial-flow fan. These are economical and great for many applications like bathrooms. Centrifugal fans, however, can offer many benefits compared to axial-flow fans. They provide better pressure generation and more efficient ventilation. This can make centrifugal fans ideal options where the air needs to go through an extended duct system, quieter operation is important, or the air circulation needs to be applied to a greater area.