Supply air valve CasaFan ZTVM in various sizes
• air valve ZTVM with mounting ring for quick and easy installation • only for supply air • galvanised steel sheet, colour white • various sizes available: ZTVM 80 to ZTVM 200
---
immediately ready for dispatch, delivery time 2 - 3 days


---
Dimensions and technical details
Air valve for supply air (in rooms without any materials that are made of flammable material)
Galvanised steel sheet with epoxide powder coating
Colour: white
Model selectable: ZTVM 80 to ZTVM 200
Cleanliness: Foam gasket ensures false excess air cannot infiltrate from the sides, thus preventing contamination
Easy to install: wide edge covers the opening, quick and simple installation
Universal: Compensates for bumps on the wall and pipes that are plastered too deep
Temperature-resistant in a range from -20° to +100°C
Mounting: Inserted into the wall or duct opening, delivery includes a mounting ring
Adjusted according to the diagrams below. Based on the zero-point Dimension A (mm) also determines the amount of times the valve has to be turned.
Airflow rate and pressure are adjusted by turning the valve disc.
Dimensions in mm
| Type | NW | A (mm) | Ø B (mm) | Ø C (mm) | D (mm) | E (mm) |
| --- | --- | --- | --- | --- | --- | --- |
| ZTVM 80 | 80 | 79 - 90 | 60 | 116 | 32 | 7 |
| ZTVM 100 | 100 | 99 - 105 | 92 | 140 | 32 | 7 |
| ZTVM 125 | 125 | 124 - 130 | 111 | 170 | 39 | 7 |
| ZTVM 150 | 150 | 149 - 155 | 135 | 202 | 44 | 10 |
| ZTVM 160 | 160 | 159 - 165 | 135 | 202 | 44 | 10 |
| ZTVM 200 | 200 | 199 - 210 | 194 | 254 | 52 | 12 |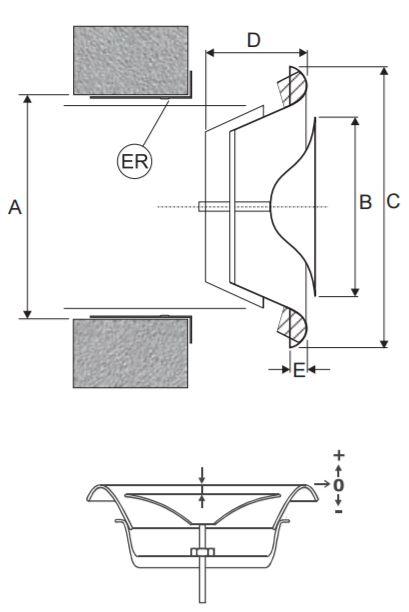 Quick selection Supply air valve ZTVM
ZTVM
Airflow (m³/h) at sound pressure
25 dB(A)
30 dB(A)
35 dB(A)
75/80
51
61
72
100
72
86
110
125
145
173
205
150
210
245
290
160
180
209
235
200
290
360
430
ZTVM characteristic curves