Electricity has always been an expensive issue. Even though most people take the view that the energy transition is a good thing, many are upset about the increasing costs for power. Nobody wants to unnecessarily balloon up the bills. That is the reason why many customers are interested in a product's energy efficiency and the associated expenses before the purchase. And rightly so, because they want to invest economically reasonable and future-oriented. This is well feasable with the acquisition of a ceiling fan instead of a conventional air conditioning. Adjustable ceiling fans are part of a modern ventilation system for houses and apartments. Not only do they offer many regulation and control possibilities corresponding to the user's wishes but also can be integrated subtly and aesthetically into any domestic environment. One of their biggest advantages hereby is their low energy consumption. Even a long-term and frequent use will not strain the wallet unnecessarily.
Technical details and information
Not only in summer ceiling fans are a great help. Thanks to a so-called reversible running direction they can help to reduce heating costs during winter. This is made possible with the change of the motion direction. Thereby the rising warm air is redistributed to the lower end of the room. Because of this circulation the room is heated up evenly and the heater does not have to be switched on unnecessarily. Ceiling fans do not only provide a pleasant room climate during the war msummer months but also come to good use when the nights get longer and colder. Therefore a summer and winter activity is possible.
Generally ceiling fans can be activated and regulated with a wall control or a remote control. The choice of the right speed level of the fan can prevent the emergence of draught as well as the occurence of health problems due to a cold. On top of that the settings provide the needed airing intensity corresponding degrees of cold or heat. Commercially available devices operate on between three and six speed levels. They can be selected with either a switch or remote control.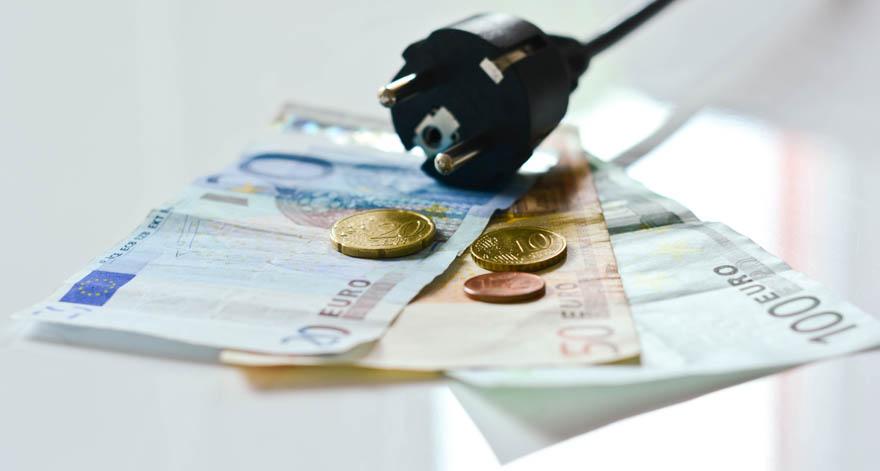 Affordable ventilation technology: a sample calculation
To what extend a ceiling fan is more economical and therefore worthwhile than air conditioning shall be explained with the following sample calculation. Beforehand it is reasonable to take a look at the average consumption of a fan as it depends on the chosen speed. For reasons of simplification not the maximum of six possible levels is assumed, but three levels as it is the case for most installed levels. A fan that is operating on the first level consumes an average of 20 Watts per hour. The commonest used medium rotation speed (level 2) consumes about 35 Watts per hour. Finally, the highest option, level 3 needs 60 Watts for a duration of 60 minutes. This level is admittedly very energy intesive, however it is used only rarely.

The contrast to the ceiling fan is an air conditioning system. Within on hour it needs a whole 2,500 Watts and therefore clearly displays a significantly higher energy consumption than a ceiling fan. The way this has an impact on the houshold budget shall be illustrated with the following calculation. The current electricity price of ca. 24 cents per kilowatt hour (1,000 Watts) is going to be assumed:
The example shows that a ceiling fan consumes less than the average air conditioning system, even when operating for 10 hours daily on every day of the week with the highest level. Whereas the latter causes costs of 42.00€ for the period of one week, the fan only accumulates 1.01€. That would result in a difference of costs of more than 40.00€ per week. With this the energy-saving operational mode and functionality can even be proven in numbers. This applies even when the fact that engaging on the highest level is mostly not even necessary, is not taken into account.
At his point it shall be allowed to hint that air conditioning systems with a good functionaly and average temperatures do not rely on a daily operational time of ten hours. Nevertheless even for an operational period of seven or eight hours of an air conditioner the ten hour long working of a ceiling fan would be more ecnomical.
When it is supposed to be even more economical: energy-saving ceiling fans
Those who still find the power costs for a regular ceiling fan too high can resort to an energy-saving ceiling fan. They work with direct current motors and consume only 30 Watts per hour when set to the highest operation level (fan speed 3). That results to energy costs of 0.72 cents in one hour. Projected onto one week according to the above sample calculation that results in costs of 50.4 cents.
The running costs of a modern fan are low. This is especially appealing together with the various possible uses of the airing device. Therefore a ceiling fan is a senseful investment that will not result in a nasty surprise on the electricity bill.