Vents mixed-flow inline fan TT Silent M 100 Series 240 m³/h IPX4 with ball-bearing
• IP rating: IPX4 • reliable motor with low energy consumption • with ball-bearing, model selectable (TT Silent M V, TT Silent M T, TT Silent M U ) • simple maintenance • integrated protection against overheating
---
Item number TT Silent M V 100
immediately ready for dispatch, delivery time 2 - 3 days

---
Dimensions and technical details
220 - 240 Volt , 50/ 60 Hertz
Material: exterior made of powder-coated steel, 50mm mineral wool layer ensures sound and heat insulation, inside and impeller made of high-quality synthetic material
Type: mixed-flow inline fan with two speeds (low energy single-phase motor)
Model selectable (TT Silent M V, TT Silent M T, TT Silent M U )
TT Silent M 100 V: includes integrated speed controller
TT Silent M 100 T: includes integrated turn-off delay, adjustable between 2 - 30 minutes
TT Silent M 100 U: includes integrated speed controller with thermostat and a temperature sensor inside the pipe. Supplied with power cable and IEC C14 plug. Temperature-controlled operation.
Ideal for ventilation systems that require high pressure, a powerful airflow and low noise level
Diameter: 100mm (compatible with vent pipes with a 100mm diameter)
Max. transported air temperature: 60°C
Quality: Device with long, trouble-free service life (ca. 40,000 hours of operation, ball-bearing motor, integrated protection against overheating)
Simple maintenance: Centre piece can be removed from the housing easily and quickly
Mounting options: any position and angle inside the pipe (beginning, centre, end)
Several fans can be applied in the same ventilation system (parallel for higher air capacity, in series for higher pressure)
Brackets on the fan housing allow attachment to floor, wall or ceiling
The conical fan wheel and profile of fan blades increase circulation speed of the airflow, ensuring a higher pressure and airflow rate than conventional axial fans
IP rating: IPX4 (splashing water)
Ideal for ventilation in damp rooms such as bathrooms, WCs as well as ventilation in apartments, houses, shops and cafés
Weight: 4.6 kg
Type

Power consumption (Watt)

min. /max.

Current consumption (Ampere)

min. /max.

Airflow (m³/h)

min. /max.

Rotation speed rpm

min. /max.

Sound pressure Lp-3m (dB(A))

min. /max.

Vents TT Silent M 100
24 / 26
0.1 / 0.11
170 / 240
2030 / 2630
24 / 29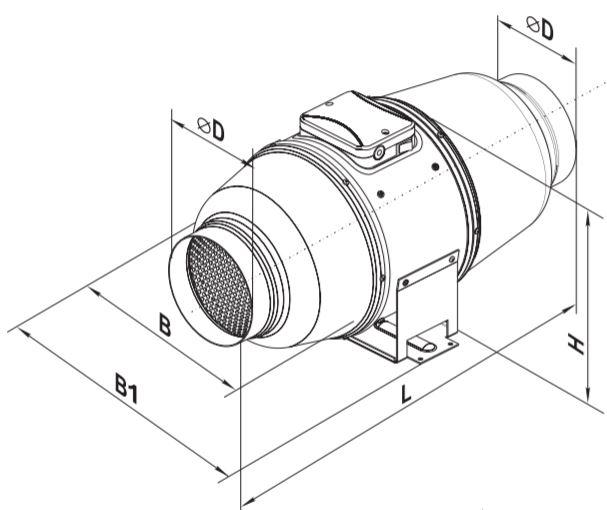 Dimensions in mm
| Type | ØD | B | B1 | L | H |
| --- | --- | --- | --- | --- | --- |
| Vents TT Silent M 100 | 98 | 215 | 243 | 505 | 237 |
Characteristics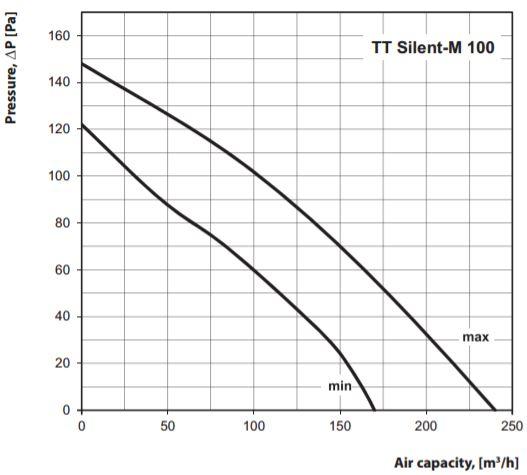 Accessories and extras are available in our shop.